Guestbook: read what our guests have to say
Tiki 30 - 9 days sailing holiday in March 2012

"Veni, vidi, vici" was the adagium of Roman emperor Julius Ceasar, and appropriately the name of our Tiki 30. We arrived to the boat (my never-sailed-before girlfriend and myself with some monohull sailing experience) and after a thorough explanation by Max, we had "seen" and understood it all. The boat came complete with gennaker and all was self-evident and easy to control, even single handedly.
When we took her out to sea for a 5 day trip around the north of Phang Nga Bay, we were overwhelmed by a feeling of safety, and indeed "invincibility": due to its modest draft (slightly over 50 cm) you can literally take her anywhere, over reefs onto the paradise beaches and into the hongs (or natural lagoons) where usually only dinghies would venture.
The bay counts innumerable islands, with caves, steep limestone walls, snorkelling spots and palm fringed beaches (with or without monkeys). We even sailed up into a river in between mangrove forests.
The Tiki 30 was surprisingly well suited for this "off-road" experience (large fridge; good stock of fresh water; handy kitchen and comfortable sleeping bunks). We just couldn't say goodbye to it and went for a 4 days extension, to take a look at the more southern islets with their pristine clear waters and brochure-like powdery white beaches.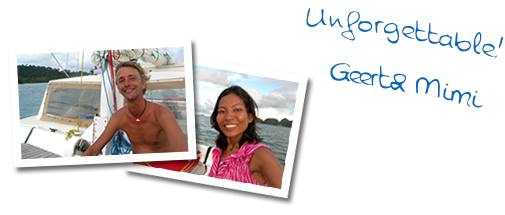 Check it out ... Guest video shot on charter!!

"Sailing the Andaman Sea on the west coast of Thailand with a 30ft Tiki Wharram catamaran chartered by Siam Sailing.
As a sailor I can tell you that this was one of the most amazing sailing experiences I've had in my life. The scenery, the clear blue water, the lovely thai food, the weather, everything, it was brilliant. It is a place where it doesn't matter where you sail, it is always beautiful."


A Maarten Film: www.maartenslooves.com

Sailing and family fun on a Tiki 30 - Dec. 2011
Having sailed in Thailand before, we decided to do another charter but now with my (grown-up) kids. As they are beginning sailors we were looking for a safe and comfortable yacht in (for dad) the lower price range. Our choice for the Tiki 30 was perfect: lots of space, comfort enough and the right price for a catamaran.
Full of anticipation, we arrived in Ao Yon, where Max (the owner of Siam Sailing) gave us an extensive briefing on the yacht, the sailing area and the "must-see" places around Phuket.
Off we went in perfect weather towards Koh Racha Noi island: paradise found! Nobody but us, turquoise waters, white sandy beaches and a safe mooring. Snorkelling, swimming, talking, relaxing, eating - as a family, meeting only a few times a year, it doesn't get better. Next morning we received a text message with the weather forecast from Max so we could plan our day.
To cut a long story short: all the remaining days were like the first: perfect (blimey, one night we had a spot of rain) and lots of sailing / family fun. The boat behaved like a song and handling was so easy that all of us had a go as 'skipper of the day'.
Returning to Ao Yon, bronzed, full of joy and totally relaxed, Max was waiting for us and it was time for stories and a sunset drink.

Tiki 38 - sailing holiday in July 2009

Two Dutch couples enjoyed a great charter on a Tiki 38, visiting many of the stunning destinations around Phuket. In order to let us enjoy all this beauty with them, they provided Siam Sailing with a short video (accompanying texts are in Dutch). The result is impressive ...